When you think of Spain, you might imagine the running of the bulls, tapas tastings, and surrendering your body and soul to the insistent rhythm of flamenco. Well, here's something more to add to your list of "stuff Spain does extraordinarily well"—Semana Santa.
What is Semana Santa?
Semana Santa is the "Holy Week" immediately preceding Easter, but banish thoughts of chocolate bunnies and tie-dyed eggs. In cities around Spain, this religious festival is marked by elaborate processions featuring floats depicting scenes from the Passion of Christ. Brass bands typically provide the soundtrack, while Nazarenos belonging to different Catholic "brotherhoods" dress in flowing robes and pointy hoods (capirotes) as they accompany their floats (pasos) along the parade route.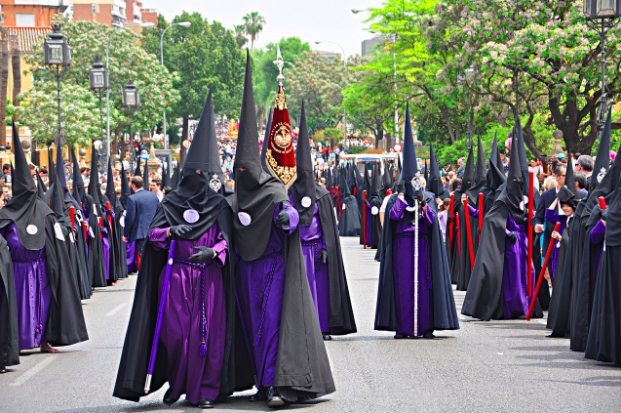 Admittedly, the outfits adopted by the Nazarenos can look pretty menacing, but there's no sinister intention behind them. The idea is to allow parade participants to preserve their anonymity while atoning for their sins, with many penitents opting to drag crosses or shackles and chains through the streets.
So, you know, there's no mistaking this sacred observance for the beer-drenched bacchanalia of Mardi Gras. And definitely don't expect any free beads, although the hooded figures at Semana Santa may carry bags of candy for children, presumably to make them appear marginally less terrifying.
Each city celebrates Semana Santa a bit differently, with traditions that may date back as far as the Middle Ages. One of the best known Semana Santa festivals is that of Seville in Andalusia, a region occupying the southern tip of Spain.
More about Semana Santa in Seville
In Seville, brotherhoods from more than 100 churches participate. Each brotherhood gathers a group of volunteer costaleros, who huddle beneath heavy pasos, some of which are centuries old and can weigh more than a ton. These devoted costaleros, whose physical strength must rival that of their spiritual fervor, ferry the floats atop their shoulders as they follow a round-trip, back-breaking route from their own church to the Seville Cathedral.
The cathedral is one of Seville's chief charms at any time of year. Originally built as a mosque in the 12th century, it was later converted into a cathedral and today stands as the third-largest church in the world. It's also renowned for its bell tower, the Giralda, and as the final resting place for Christopher Columbus.
The key event of Seville's Semana Santa is La Madrugá–the late-night processions that run from just after midnight on Good Friday through to the wee hours of the morning. The most popular of these is La Macarena. Not to be confused with the hip-shaking dance favored by wedding DJs, La Macarena in this context refers to a much-beloved wooden image of the Virgin Mary, which is carried through Seville's streets in a 14-hour procession.
In addition to the passage of the pasos, watch for women adorned in black lace veils called mantillas, and listen out for the mournful, emotional saeta, a heart-piercing acapella religious song whose name, appropriately, is a derivation of "arrow."
Seville's attractions extend well beyond its Semana Santa celebrations, of course. Some of its most spectacular showstoppers are the 18th-century Plaza de Toros de la Maestranza bullring, the Alcazar (a Moorish-era royal palace where almost every surface is covered in intricately patterned tiles), and the Spanish Pavilion.
The pavilion, with a dazzling columned arcade embracing a massive courtyard, may look familiar to film buffs. It served as an otherworldly palace in the Star Wars series and as Sacha Baron Cohen's not-so-humble abode in The Dictator.
While it's considerably less flashy than the palace and pavilion, don't miss the quiet charms of the labyrinthine Santa Cruz neighborhood, the former Jewish quarter where the fictional Don Juan was "born." It's probably no coincidence that the narrowest alleyway, Renosa, is nicknamed "the kissing street."
Thinking about day trips?
Seville is also the perfect hub for day trips to other cities around Andalusia. Here are three suggested routes you can book through Busbud.
Cordova
Take a bus from Seville to Cordova to see top sites like the Mezquita mosque, the Renaissance Palacio de Viana, and the Medina Azahara.
Cadiz
Take a bus from Seville to Cadiz, an ancient city known for the Santa Cruz Cathedral, Santa Catalina castle, and an array of beautiful beaches.
Jerez de la Frontera
Take a bus from Seville to Jerez de la Frontera to watch one of the city's famous horse shoes at the Real Escuela Andaluza del Arte Ecuestre, explore the impressive grounds of the Alcázar fortress, or sip a sherry in one of the city's traditional bodegas.  
This post was written by Amy Laughinghouse, a London, UK-based freelance writer and photographer. Read more about Amy's adventures on her website, and follow her on Twitter and Instagram.