This article was updated on July 6, 2018.
Monterey
After Santa Cruz, it's off to Monterey! Here are two of our favorite activities.

1. Visit the Monterey Bay Aquarium
Once you reach Monterey, don't miss taking a tour in the famed Monterey Bay Aquarium. This museum won TripAdvisor's Traveler's Choice Award 2014! With its unique design and display of several interesting exhibits, it's located right at the waterfront on 886 Cannery Row.
2. Go see the Fisherman's Wharf
We also recommend walking towards the southeast and paying a visit to the historical Fisherman's Wharf. From there, you can also book boats and go whale watching.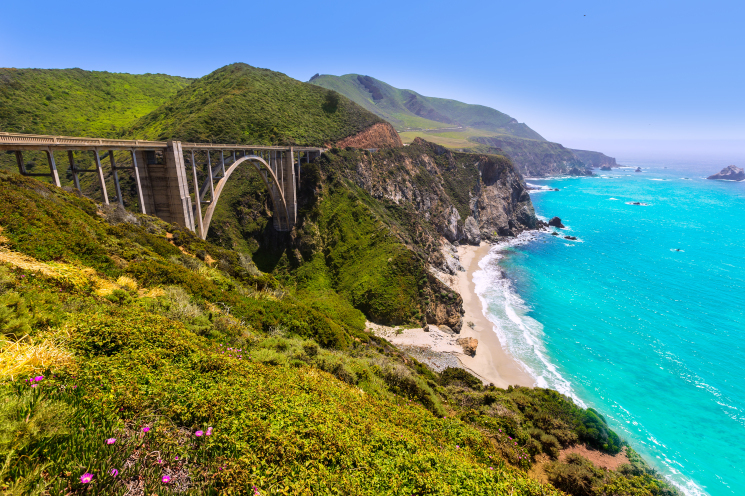 Big Sur

The Monterey-Salinas bus 22 runs several times daily, seven days a week from Memorial Day through to Labour Day, and weekends through the rest of the year. Even though the bus only goes to Nepenthe, which is about one third into Big Sur, it provides some great views. One of them is the much-photographed Bixby Bridge.
Big Sur is the largest and most scenic attraction of this US region that lies south of Monterey. Here are three fun activities to partake in.

1. Go hiking
Big Sur and is known for its special rock formations and beauty. There are many amazing – if not some of the most amazing – trails for hikers in this region.

2. Pass by the Henry Miller library
Another one of Big Sur's secret tips is the Henry Miller library just nearby Nepenthe restaurant. Want to buy a Miller book in an artsy atmosphere and read directly there with view on the ocean? Everything possible in Big Sur!
3. Relax at Pfeiffer Beach
The most stunning landmarks in Big Sur, Pfeiffer Beach, is about two and a half miles south of Nepenthe restaurant and can only be reached by car. If you manage to get a ride there or rent a car, you should absolutely do so! The beach is very well hidden, so if you're coming from Nepenthe, look out for the only paved road on the right, about two miles from Big Sur station. Look for a yellow "narrow road" sign – and don't get discouraged. The bumpy drive from Highway down to the beach is about two miles long.

Search and book your bus tickets to and from the United States directly on Busbud.com