Hotel price comparison
Looking at Hotels vs Airbnb
When you're planning a vacation, costs can add up quickly if you're not careful. You want to get the best bargains on basics such as accommodations and transportation so you can splurge on the experiences that make memories – fun activities, special meals, and maybe even a few souvenirs. When you're looking for a place to stay, most of the time you're not planning to stay in your room, so finding affordable accommodations is a must.
Are Airbnbs or hotels cheaper?
In 2023, it's not always clear as Airbnb prices have increased quite a bit since they came into existence.
When it comes to finding deals on bus tickets in cities around the world, Busbud has got you covered, But what about accommodations?  We analyzed 220,000 Airbnb listings worldwide as well average hotel rates from one of the largest hotel booking websites in the world, Hotels.com, to find out if Airbnb or Hotels are a better deal in major cities around the world.
Travelers have no shortage of options when it comes to finding a place to stay. Along with going the traditional route of booking hotel rooms, many people are turning to Airbnb: an online community marketplace (aka "home sharing" site) where people can list and book various types of short-term accommodations around the world. We decided to compare the average costs of hotel and Airbnb rates in 22 cities around the world to see how the deals stack up. Read on to see what we discovered.
Comparing hotel and Airbnb rates across the U.S. (as well as in Toronto, Canada's largest city) yields interesting results. Airbnb prices are more competitive in seven of the 12 cities we examined. Overall, Airbnb wins the price war in the Northeast and Pacific Northwest, while hotels fare better in the South.
In some cities, the difference in price is dramatic. For instance, in Toronto, a hotel room costs about 50% more than an Airbnb stay on average. However, in Austin, the average Airbnb rate runs 57% higher than a hotel booking. Interestingly, Austin is the headquarters of HomeAway – one of Airbnb's main competitors.
Next, we compared hotel and Airbnb rates in popular cities in Europe and Australia. Europe is a hub for Airbnb properties, with the majority of its properties located there – and it shows in our results. In eight of the nine cities we looked at, average Airbnb rates are lower than hotel costs.
In many locations, including Berlin, Madrid, Paris, and Vienna, the average hotel booking costs nearly twice as much as an Airbnb stay. And in Sydney – the only Australian city we studied – the average hotel rate is around 28% higher than an Airbnb rental.
However, it's a different matter in Barcelona: On average, Airbnb rates run 81% higher than hotel costs in the most cosmopolitan city in Spain. Barcelona is an extremely popular tourist destination, and it's possible the heavy demand drives up prices. Additionally, the city requires a special permit to advertise apartments, and it's cracking down on violators.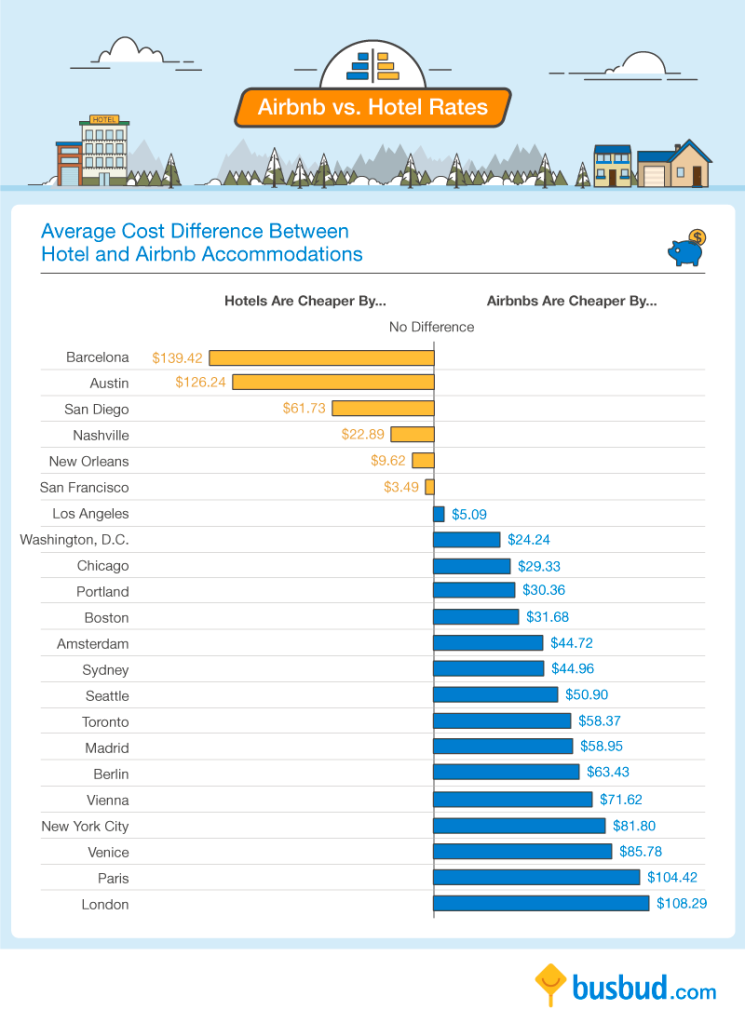 The above chart shows the cost difference between hotel stays and Airbnb rentals in various cities. Hotels are cheaper in six of the 22 cities we examined, and Airbnb rentals are cheaper in 16 cities. The disparities in price range from a couple of dollars to more than $100. In Barcelona and Austin, the average hotel stay is over $100 cheaper than an Airbnb rental. But in London and Paris, Airbnb rates are over $100 cheaper than a hotel stay. And in New Orleans, San Francisco, and Los Angeles, there is a less than $10 difference between the two.
Airbnb listings offer various types of accommodations for rent on a nightly basis. Booking a private room means you'll have your own bedroom, but you'll share other areas of the home, such as the kitchen, with the homeowners. The average price is around $75, but you can find private rooms for less than $50 in Madrid, Berlin, and Toronto.
If you're willing to share accommodations (including a bedroom) with another person, the average price is $63 – around $10 less than a private room. The best bargains on shared rooms are in Berlin, Sydney, and Vienna.
If you're traveling with a group, renting an entire home or apartment may be your top choice. The average rate is $183 per night, but in Berlin, Vienna, and Madrid, you can find homes for rent for less than $100. Whichever type of accommodations you're seeking, when you book with a home-sharing site, it's important to choose carefully, ask the host plenty of questions, and always put your safety first and foremost.
YOUR VACATION, YOUR WAY
Whether you're planning a once-in-a-lifetime vacation or an annual visit with out-of-town friends, it's a good idea to shop around to get the best deals on accommodations. As our study reveals, depending on your destination, you may be more likely to find a bargain on an Airbnb rental.
However, Airbnbs are not always perfect. Your experience can hinge on the hospitality of a single host, rather than an entire staff – like at a hotel. Whichever you choose, remember to check Busbud for inexpensive bus tickets so you can spend your vacation doing exactly what you came for – seeing the world.
METHODOLOGY
We used the Hotels.com price index and Inside Airbnb for data collection.
218,980 Airbnb listings were analyzed from Inside Airbnb. Hotel rates were an average of all hotel rates listed on Hotels.com through the first half of 2015.
All Inside Airbnb raw data were in local currency and converted to USD using Yahoo's currency converter on January 18, 2016.
SOURCES
http://hpi.hotels.com/usa-h12015/
http://insideairbnb.com/get-the-data.html
http://blog.airbnb.com/airbnb-growth-europe/
http://www.citylab.com/housing/2015/12/barcelona-airbnb-tourism/421788/
https://www.airbnb.com/help/article/5/what-does-the-room-type-of-a-listing-mean
http://www.cntraveler.com/stories/2014-01-14/six-tips-for-first-time-airbnb-renters
FAIR USE
Feel free to share the images found on this page freely. When doing so, please attribute the authors by providing a link back to this page, so your readers can learn more about this project and the related research.