Bus travel is one of the most popular ways of getting around in South America. With the costly fares of air travel, buses turn out to be an affordable method of transportation throughout the continent. And because bus travel is so popular around the continent, the bus companies compete for travelers' attention by offering comfortable rides – sometimes even luxurious rides – that easily impress those who are used to North American or European buses.
But having so many options might make it hard to know which seat to choose or the differences between them, particularly when everything is in Portuguese or Spanish. The good thing is Busbud helps you navigate through the bus world without getting lost in translation, as you can look through amenities and buy your tickets in 12 different languages. 
But we're not here to talk about how great we are (though lots of people agree we're pretty great). We just want to show you the different types of seats available on South American buses, the additional amenities they offer, and provide useful tips for choosing the perfect seat. Here's what you should expect from bus seats in South America.
The different seats on South America buses
Generally, the most modern South American buses are equipped with seats designed with passenger comfort in mind. The seats are usually ergonomic and offer good comfort during long trips. Additionally, most seats recline, allowing passengers to adjust their position according to their individual preferences. Some buses also provide leg support, which helps reduce fatigue during the journey.
In South America, most buses are divided into different categories of seats:
Standard/Common seats
Usually classified as "estándar" or "convencional" in Spanish, or "comum" in Portuguese, this service is the most basic option on South American buses. These buses generally have common foamy seats with a slight recline, heating, air conditioning, and restrooms. They are a popular choice for short trips or for those looking for a more economical option without many additional amenities.
Semi-bed seats (also known as "Executive")
"Semicama" in Spanish or "semi-leito" in Portuguese, this service buses is a more comfortable and popular option for medium-duration trips. These buses have individual and reclining seats with a greater recline, as well as armrests, leg rests, and footrests for added comfort. Some also offer self-service beverages, restrooms, and air suspension, among other amenities. Sometimes, semicama buses are also referred to as executive buses due to their enhanced level of comfort.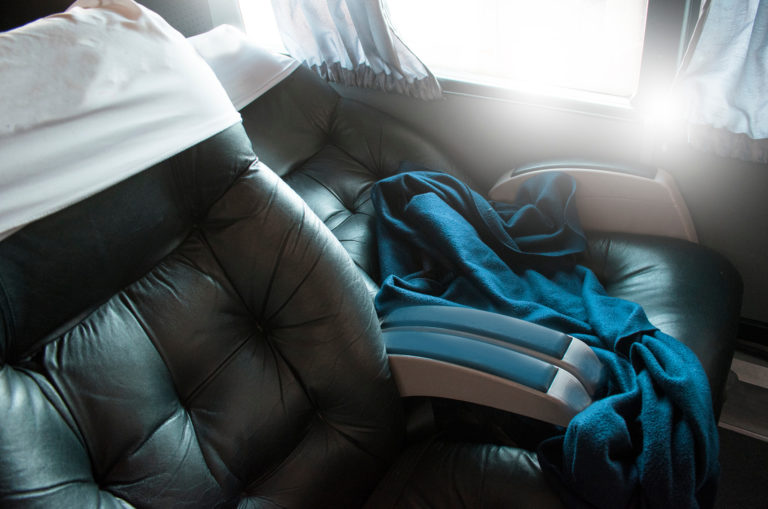 Executive bed seat
The "cama ejecutivo" in spanish or "leito executivo" in portuguese takes comfort to another level. These buses have three rows of extra-wide individual seats that recline up to 150 degrees, with armrests, leg rests, and footrests for greater comfort and personal space. In addition to the amenities of the semi-bed service, the cama ejecutivo service may offer additional services such as cabin crew to attend to passengers' needs during the journey.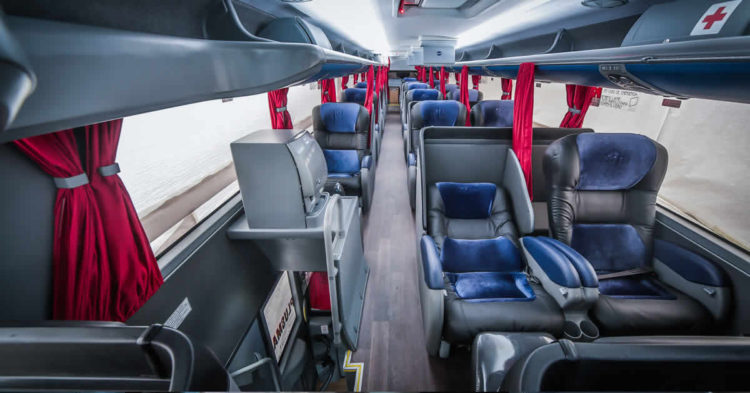 Bed suite seats
Known as "cama suite" in spanish or "leito" in portuguese, these seats are less common as fewer bus company offer the,. But if you're lucky enough to travel in one of those luxurious first-class seats, you'll have ample space to stretch out and fully rest during the trip. These seats recline up to 180 degrees and may have some separation between them, providing greater privacy. In addition to all the amenities of the cama ejecutivo service, cama suite buses may offer comfortable leather armchairs, foot support trays, surround sound, heating and air conditioning, as well as multimedia players.
Additional amenities
In addition to seat comfort, some South American bus companies offer a range of additional amenities, although their availability may vary depending on the company. Here are some of the amenities you may find:
Wi-Fi: Many buses are equipped with Wi-Fi connection, allowing passengers to stay connected throughout the journey.

On-board entertainment: Some buses offer on-board entertainment, such as movies or music, to make the travel time more enjoyable.

Power outlets: Some buses have power outlets, which are especially useful for charging electronic devices during long trips.

Food and beverage services: Certain buses usually offer on-board food and beverage services, ensuring that passengers can enjoy a comfortable journey while being well-fed.
It's important to note that the availability of these amenities may vary among different bus companies in South America. It is recommended to check the options of each specific company to know the specific amenities they offer.
In general, buses on shorter trips tend to offer simpler amenities, while executive and long-distance buses usually have more comprehensive services. It's important to consider that this may vary depending on the bus company you choose.
So it is recommended to review the list of amenities from each company, as well as read reviews from other travelers. You can easily do that at Busbud and then be ready to make an informed decision after finding the bus that best suits your needs and preferences.
Tips for choosing the perfect seat
Choosing the right seat can make a difference in travel comfort. Therefore, it's important to consider personal preferences and individual needs. If you enjoy panoramic views, a seat near the window may be the ideal choice. On the other hand, if you prefer easy access to the aisle, it's advisable to opt for a seat in that location. Additionally, it is recommended to reserve seats in advance, especially during periods of high demand, to ensure you get your desired option.
Get ready to travel comfortably and stylishly on South American buses! Explore the different types of seats, learn about the available additional amenities, and choose the service that best suits your needs. Don't forget to check reviews from other travelers and the list of amenities from each company to make an informed decision. Book your next trip and enjoy an unforgettable travel experience on South American buses!
Do you have a bus travel story in South America? Share your experiences and adventures in the comments and join our community of enthusiastic travelers.