Unexpected events are usually what make a trip memorable. However, they can also potentially ruin your entire journey. Here are ten commandments for bus travel in Mexico to make the most out of your trip and have as hassle-free of a journey as possible.
1.Thou Shall Use Busbud to Book Your Tickets
Buying bus tickets in Mexico can be a bit tricky. Booking in person with ground staff can quickly get complicated if you're not familiar with the Spanish language. For this reason, online reservations are your go-to solutions. Busbud makes it easy and convenient to plan your trip by simplifying bus booking and saving you both time and trouble. You have a worldwide bus station within reach, why not take advantage of it?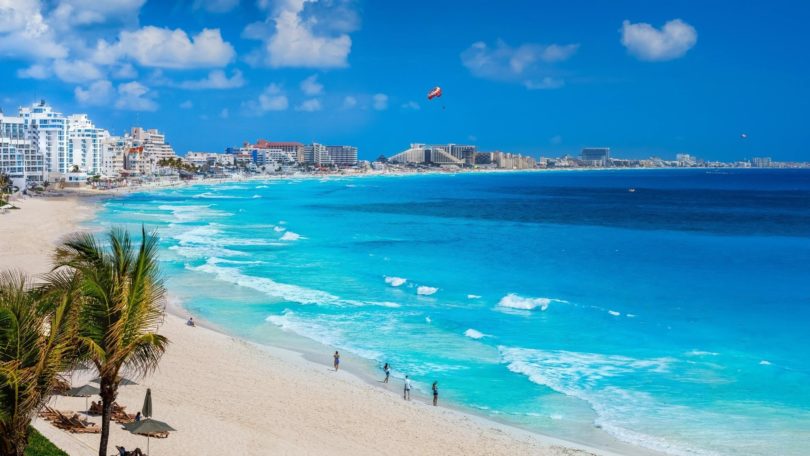 2. Thou Shall Choose the Right Bus Class for Your Needs
Contrarily to popular belief, buses in Mexico can be quite pleasant and even surpass initial expectations. To avoid unwanted surprises, find out which bus type is more suited for your needs. There are 3 classes of bus in Mexico depending on what you're looking for in terms of amenities and pricing.
Executive Class (De Lujo or Ejecutivo Clase)
The Executive class represents the most luxurious range of buses. They're equipped with the latest technology like individual LCD TV screens to keep you entertained during your journey. For the ever-connected traveler, there's also WiFi onboard which is great if you need to catch up with friends and family or work on the go.
If comfort is what you ultimately seek, the Executive class will surely satisfy. On top of A/C, you'll be able to nestle yourself into wide reclining seats with leg supports while enjoying a complimentary sandwich and cold drink.
This is also the fastest and most efficient option as Executive class buses run nonstop (sin escalas/directo) until they've reached their destination unlike lower fare alternatives.
First Class (Primera Clase)
Like the Executive class, First class offers A/C, professional and courteous staff, onboard restrooms and entertainment. However, you will have to sacrifice a bit of leg room to benefit from the lower price point. These buses are also more likely to make one or two pit stops at major cities en route (semi-directo) than its upscale counterpart.
If you happen to luck out and board one of their double-decker buses, try to get upstairs to get a glimpse of some of the best views of Mexico.
Second Class (Segunda Clase)
Otherwise, if forgoing A/C, leg room and food is not an issue for you, choose Second class and its basic yet budget-friendly offerings. Take note that the bus might stop anywhere (think, middle of the road) to pick up passengers hailing the bus from the street (ordinario). However, what you might lose in terms of travel time, you will gain in terms of cost saving.
3.Thou Shall Know Your Way Around Bus Stations
Mexico City has four main bus stations – four for each cardinal compass points (North, South, East and West).
Terminal de Autobuses del Sur – The Southern bus terminal
Terminal de Autobuses del Norte – The Northern bus terminal
Terminal de Autobuses de Pasajeros Oriente (TAPO) – The Eastern bus terminal
Terminal de Autobuses del Poniente – The Western bus terminal
Each terminal serves differents routes all over Mexico (with some overlap) so be sure you know which one you are to be traveling from.
For bus stations in general, layouts are relatively standardized. Essential information such as list of destinations operated by the company, class of service, service times and bus schedules can be found behind the counter.
As for amenities, keep some change handy as entry to restrooms comes with a fee of $3 – $5. Also, while Mexican bus stations don't offer WiFi, they do have ATM services as provided by one of Mexico's major banks (Banamex, Bancomer, HSBC).
Some bus stations have exclusive rooms reserved for Executive class ticketholders. These lounges offer a few additional features such as TV entertainment, sodas, coffee and biscuits.
4. Thou Shall Keep An Eye on Your Personal Belongings
Bus travel in Mexico is generally safe as security staff continuously patrol bus stations. But, of course, as with everything else, a bit of precaution is worth being taken. As it is the case with airports and train stations too, it is always good to stay alert and watch out for pickpockets and bag snatchers.
A way to prevent theft would be to keep your valuables secured and out of sight. Also, keep your nifty Sunday attire for another occasion. Instead, dress simply and casually to avoid drawing unwanted attention.
5. Thou Shall Arrive Early
If you arrive late and miss your bus, no refunds will be given. So, we suggest setting aside at least half an hour to allow for unforeseen circumstances.
This is especially true if you're boarding an Executive class or First class bus that offers baggage checking. Most companies accept stowed bags 30 minutes before the scheduled departure time so be sure to be there ahead of time to beat the crowd.
6. Thou Shall Leave the Superfluous At Home
Speaking of luggage, bus companies have different baggage policies. Most often, they only allow you to bring one checked bag and one or two personal items onboard so pack light.
7. Thou Shall Be Mindful and Friendly With Thy Driver 
A smile and a thank you can go a long way – especially for someone who is driving during long hours so you don't have to. Besides, wouldn't you want someone who knows all the ins and outs of the country on your side?
8. Thou Shall Bring A Sweater to Keep Warm
A warm sweater or cozy blanket definitely ranks among top bus necessities. Despite the sweltering weather outside, buses can get chilly fast with their A/C in full-blown action.
9. Thou Shall Keep Gravol and Toilet Paper on Hand
Some of us don't agree too well with bumpy roads. Buses in Mexico travel quickly and the roads can be windy so bring something along to keep that motion sickness at bay. As for toilet paper, well… it's a classic case of better be safe than sorry.
10. Thou Shall Bring Along Your Own Food
Pack a few snacks and a water bottle with you. Not only for the time that you'll be spending on the bus but to munch on while resting at pit stops as well. Even if most bus stations have small coffee shops and locally-run convenience stores, the extra food might be useful if the offerings aren't quite appetizing. Plus, it'll save you some money.
Be sure to check out our Quick Guide to Bus Travel in Mexico for more bus travel tips. 
Search and book your bus tickets to and from Mexico directly on Busbud.com
Have you taken the bus in Mexico and have some tips you would like to share? Let us know in the comments below!