Crashing waves. Artfully prepared meals. Roadside attractions. Many travelers are passionate about documenting the world around them via Instagram. After all, the popular photo-sharing app allows its 300 million monthly users to share experiences, build online communities, and connect with friends new and old. At Busbud, we decided to explore which types of U.S. and Canadian destinations are mentioned most on Instagram to discern the most photogenic beaches, parks, landmarks, and more. Which picture-perfect locale should you explore next? Read on to see what we discovered.
Click on any location to see the most instagrammed place in that location. Click again to zoom.
The United States is a pretty big place – 3.8 million square miles to be precise. All that land translates into a bunch of great new places to explore and photograph. And with millions of miles of roads running through every nook and cranny, getting to your next destination can be as easy as hopping on the next bus out of town.
The list of most Instagrammed spots in each U.S. state doesn't lack diversity. Destinations to satisfy virtually every interest exist – from sports arenas to theme parks, race tracks to universities – and the locations are distributed throughout the country.
Parks and Geographic Landmarks
The most common attractions on our list: the numerous parks and geographic landmarks found across the nation. The National Park Service alone covers 408 different areas in the U.S. and its territories, and all are worthy of a visit.
Want to snap some photos of the extreme wilderness? Alaska is home to two favorite parks: Six million–acre Denali National Park (primarily accessible by bus, foot, or bicycle) is rife with breathtaking views and incredible wildlife; Glacier Bay offers wilderness in the form of mountains, fjords, and – of course – glaciers.
In the West, you can document dramatic natural beauty. Washington's Olympic National Park is home to old-growth forests and crashing waves, while Glacier National Park in Montana features 700 miles of trails where visitors experience alpine meadows, icy lakes, and rugged mountains.
Further East, White Mountain National Forest in New Hampshire is beloved for its hiking areas, lakes and streams, and adventure options including a zip line course and ski area – perfect for a selfie that showcases your daring side.
Familiar locations are also popular among Instagrammers. Yellowstone National Park in Wyoming is renowned for its geysers and wildlife, while the Grand Canyon in Arizona, a whopping 277 miles wide, is one of the country's most recognizable landmarks.
Beaches
If you'd like to share photos of crashing surf and your toes in the sand, choose from many must-see beaches in the United States. Florida is a haven for beach pictures lovers. For fast cars, beautiful people, and active nightlife, consider South Beach in Miami. During the day, head to Lummus Park on the east side to play beach volleyball, swim in the turquoise waves, and relax under swaying palm trees. On the other side of Florida, Clearwater Beach is the place to dig your toes in the white sand, swim in crystal-clear water, and enjoy the balmy breeze.
Dreaming of small-town charm and wildlife? Cannon Beach in Oregon, while a bit chilly for swimming, offers nine miles of picturesque coastline to stroll (don't forget to snap a photo of famous Haystack Rock).   If you want a traditional beach vacation ("Say cheese, kids!"), Old Orchard Beach in Maine and Rehoboth Beach in Delaware are popular destinations for families. Old Orchard Beach offers seven miles of sand and a 500-foot pier that's home to restaurants, concerts, whale-watching tours, and more. If you have kids, don't miss the beachfront amusement park. Rehoboth Beach offers beautiful coastline ideal for surfing, skimboarding, and paddleboarding as well as a mile-long boardwalk.
Hashtag Happenings
Avid users of Instagram turn to hashtags to build community, start conversations, and gain followers. Along with hashtagging a specific location (for instance, #denali), Instagrammers can expand their reach through other tags. Some users include several hashtags with each post. Documenting a trek through a national park? Use hashtags such as #hiking (more than 9 million posts), #wildlife (more than 3 million), and #wilderness (more than 1 million). Sharing your best pics of sand and surf? Tag your posts with #beach (more than 97 million posts) #beachlife (more than 4 million), and #beachday (more than 12 million). Tags include #pnw, #northwestisbest, #thatpnwlife, and #pacificnorthwest.
What are the most Instagrammed location types in the nation overall? Once again, parks top the list – a nod to the great natural beauty of America. Let's take a look at other Instagram-worthy locales.
Wineries and Vineyards
Proving that people who love to travel also enjoy unwinding along the way, wineries and vineyards are the next–most popular location to Instagram. (After all, what's not to love about a close-up of grapes ripening on the vine, a quirky label, or a glass of ruby-red wine?) With 7,800 wineries in the United States (and at least one in every state), wine enthusiasts have ample opportunities to sample merlots and cabernets.
Featuring Swiss roots, Wiederkehr Wine Cellars in Arkansas is the largest (and oldest) vineyard and winery in mid-America. In Connecticut, Holmberg Orchards and Winery is a fourth-generation farm where you can sip white and fruit wines along with hard cider. Clearwater Canyon Cellars in Idaho relies on local grapes and local glass to bottle its wines.

Another popular category on Instagram, historic sites offer the opportunity to educate the whole family about the nation's past – and capture some once-in-a-lifetime photos. The White House is an obvious favorite, but don't overlook lesser-known gems. Old Sturbridge Village in Massachusetts allows visitors to experience 1830s New England life. West Virginia Penitentiary offers tours of the historic prison. In Iowa, you can head to Winterset to explore John Wayne's birthplace.
Canada's large land mass and broad longitudinal range make it one seriously awesome place to explore. Given the incredible amount to see and do in each of the 10 provinces and three territories, it could be very difficult to narrow down the list of most popular locations. Fortunately, Instagrammers provided plenty of information – and the best locations have emerged.
The Great Outdoors
In a place that feels like it was created specifically for the adventurous type, Canada's top Instagrammed locations are almost exclusively associated with outdoor activities. From skiing to beach combing, there's always something to do – and the scenery is guaranteed to be some of the best in the world. Want to be in the loop on Instagram when you're visiting the true north, strong and free? Popular hashtags include #canada (more than 15 million posts), #explorecanada (more than 770,000), #canadaswonderland (more than 80,000), and (almost 30,000).
Aurora Village in the Northwest Territories provides a chance to see the spectacular aurora borealis, especially on clear winter nights. If you want to capture some truly breathtaking Instagram photos, consider a visit to Baffin Island: a remote and icy area located on the Arctic Ocean in the far north.
Not looking to spend your days and nights in the tundra? Not to worry; Canada has you covered. Deer Island in New Brunswick gets quite warm during the summer months, providing ample opportunities to enjoy time on the water or by the coast. Lake Louise in Alberta is another favorite that provides plenty of outdoor activities. Anyone visiting in July should pack a pair of shorts for those warm days.
Canada is known for having some truly excellent nightlife, especially in cities such as Montreal and Toronto. But nothing in Canada seems to bring out visitors' inner shutterbugs quite like the pristine natural wonders that can be found all over the country. In fact, you have to go down to No. 5 on the list before you find indoor activities, and even those photos represent less than 5% of the total volume.
The clear winners here are the many points of interest and landmarks. Whether you're visiting Canada for the first time or you've adorned your backpack with a maple leaf patch, you'll find photographic inspiration in the vast wilderness and unique towns.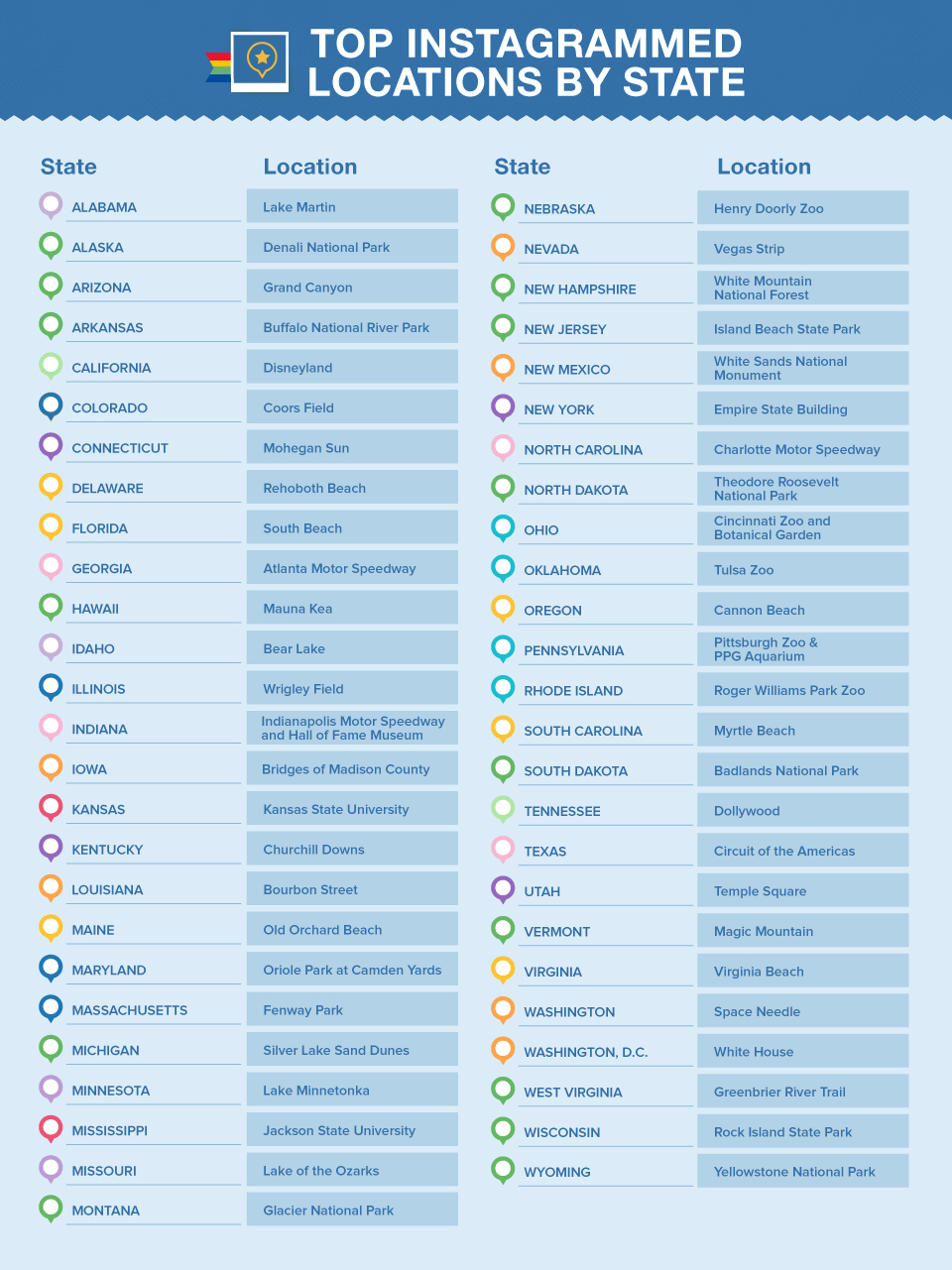 See the World
If you're looking for a reason to hit the road, look no further than within. Going on a trip to a new location can boost your confidence level, allow you to meet people you otherwise would not have, and provide you with memories that will last a lifetime.
If a road trip is on the agenda, why not let someone else handle the driving? Traveling by bus is a great way to see the world, and Busbud is the best place to find inexpensive tickets to all the places on your bucket list. And whether that list features a sandy beach, a historic landmark (hello, Mount Rushmore!), or a hockey game in an arena you've always wanted to visit, you deserve to turn your dream into reality. Busbud partners with the best bus companies like Greyhound, Megabus, National Express, FlixBus, OUIBUS, ALSA, Red Coach and many more.
Give yourself permission to go somewhere new – and while you're at it, share your favorite photos on Instagram to serve as a virtual scrapbook or a no-stamps-necessary postcard to friends back home.
Methodology
Using the location type and name of the popular locations on TripAdvisor across the United States and Canada, we looked at which locations produced the most hashtags for Instagram posts and ranked them in every state, province, and territory.
Sources
http://www.instagram.com
https://www.census.gov/geo/reference/state-area.html
http://www.nps.gov/aboutus/faqs.htm
http://www.winesandvines.com/template.cfm?section=news&content=127266
http://www.wineriesbystate.com/
http://auroravillage.com/aurora-information
http://travel.usnews.com/Rankings/Best_Canada_Vacations/
http://www.inc.com/eric-markowitz/life-and-times-of-instagram-the-complete-original-story.html
http://money.cnn.com/2015/02/05/investing/twitter-earnings-users/
http://readwrite.com/2012/03/14/study_why_do_people_use_instagram
http://www.miamiandbeaches.com/parks/lummus-park/110489
http://www.visitclearwaterflorida.com/
http://www.tripadvisor.com/Tourism-g51790-Cannon_Beach_Oregon-Vacations.html
https://www.beach-fun.com/
http://www.denaliparkvillage.com/vacation-attractions.aspx
http://www.nps.gov/glba/index.htm
http://www.nps.gov/olym/index.htm
http://www.nps.gov/glac/index.htm
http://www.visitwhitemountains.com
http://www.wiederkehrwines.com/
http://holmbergwinery.com/tastings/
https://clearwatercanyoncellars.com/
https://www.osv.org/
http://www.wvpentours.com/history.htm
http://johnwaynebirthplace.museum/
http://www.huffingtonpost.com/jacada-travel/11-reasons-why-travel-makes-you-a-happier-person_b_6908918.html
Fair Use
Feel free to use the assets found on this page freely. When using anything here, we ask that you link back to this page so that readers can explore other parts of the project and methodology as well.