Traveling by Bus in the US: Rolling up the East Coast, from Charleston to Boston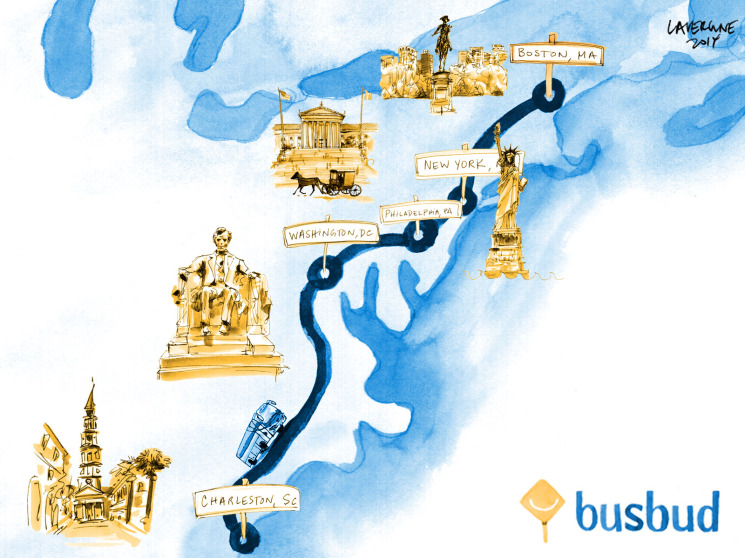 Many travelers dream of taking the Great American Road Trip and traveling the highway from town to town across the United States. How about taking the journey in the form of a cross-country bus trip?
Traveling by bus lets you leave the "how are we getting there" part of the planning to the experts – all you have to do is sit back and enjoy the ride. Companies, like Megabus, have established many routes across the country and are popular with students and budget travelers, while Greyhound, the biggest bus company in the country, has a combination of bus lines that makes it possible to go nearly anywhere.
> Click here to discover the complete bus journey along the East Coast
If you choose to travel from coast to coast, keep in mind the sheer size of the country. Bus rides through the middle of the US can stretch 15 to 20 hours or longer. If you have limited time or patience, it is better to choose one region of the US to explore thoroughly. The following bus trip concentrates on the East Coast of the United States, which is rich in historical and interesting cities.
AVE
Bestbus
California Shuttle
Coahuilenses
Express Trails
FEB
Florida Red Line Shuttle
Go Buses
Greyhound
Grupo Senda
Jet Set Express
Lux Bus America
RedCoach
Sendor
Sprinter Bus
Tamaulipas
Tufesa
Turimex Internacional